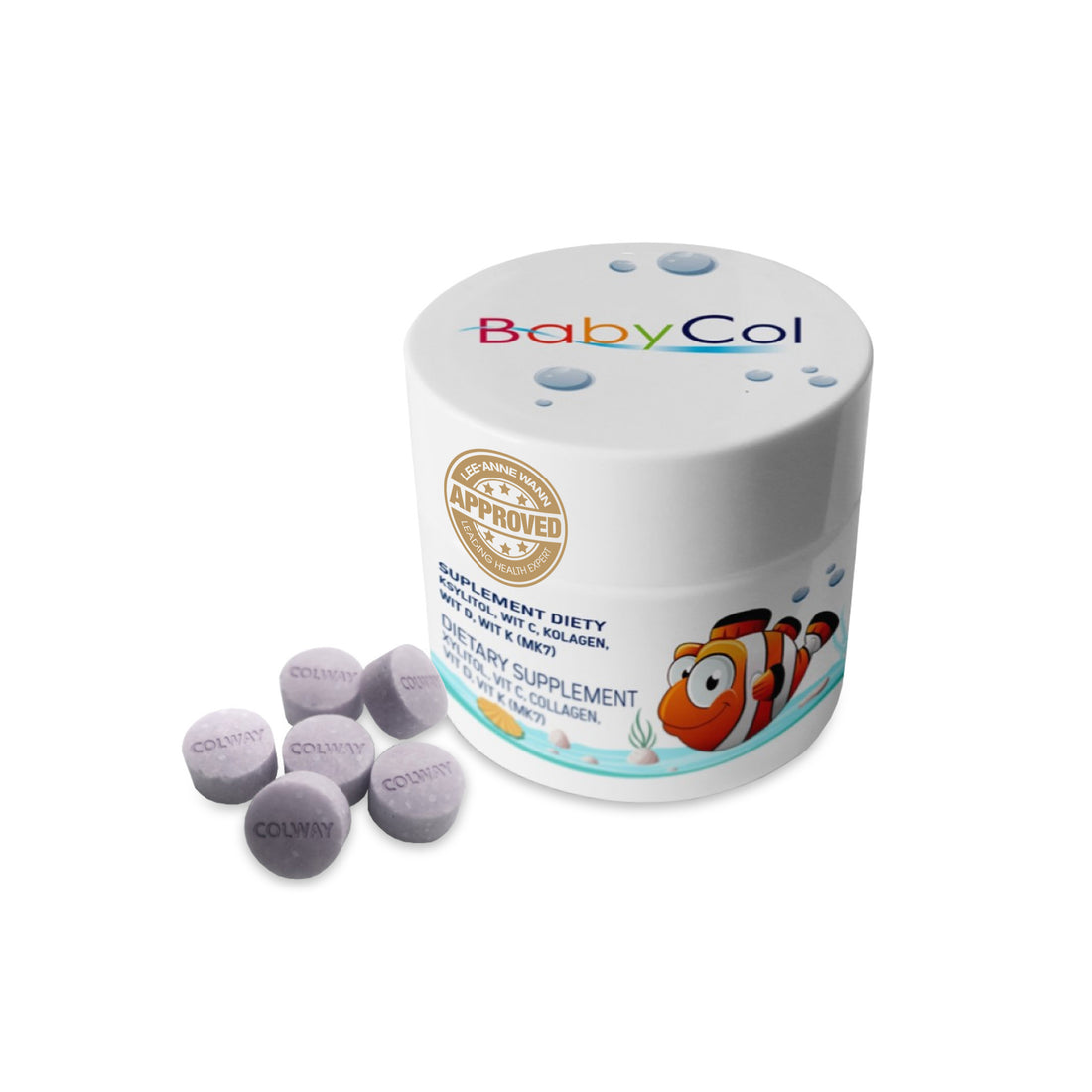 BabyCol - A unique formula designed to keep little people healthy
60 lozenges
BabyCol contains a unique combination of fish collagen and vitamins D and K, as well as wild rose extract that is a source of vitamin C.
BabyCol provides little ones with an effective barrier of protection boosting resistance and resilience while helping them grow.
As a Mum to two toddlers I am always looking for great products that actually do what they say, are effective and do not have any negative side-effects to build resilience and enhance immune function in my children. This is one of them AND it is something my kids love – in fact speaking to all Mums out there – this is my go to 'bribe' to get them out of the house and in the car on time on 'those' days. A definite win when something so good for them is something they love so much.
WHAT'S IN THE BOX?
60 Lozenges

INGREDIENTS AND QUANTITY IN A DAILY DOSE:

• Xylitol – maintains tooth mineralization by decreasing demineralization and decreases blood glucose after meals.
• Wild rose (vit C 100mg) – helps in the proper functioning of the immune system, respiratory, digestive and urinary. Thanks to the vitamin C content, which is one of the strongest antioxidants, it protects DNA, proteins and lipids from oxidative damage.
• Collagen (12mg) – 30% of the total mass of human protein, is responsible for the continuous regeneration of body cells.
• Vitamin D (400IU=10μg)- contributes to the proper functioning of the immune system and to the absorption and utilization of calcium and phosphorus, helps to maintain proper functioning of the muscles, maintain healthy bones and teeth, and maintains normal blood calcium levels. It is also involved in the cell division process.
• Vitamin K – mk7 (25μg)- contributes to proper blood coagulation and helps maintain healthy bones.

RECOMMENDED DAILY INTAKE:
1 lozenge per day
Dosages may be altered to optimise health and well-being. Please contact us anytime to discuss your personal needs.

CONTRAINDICATIONS:
Please avoid if you have an allergy to any of the ingredients.
This dietary supplement should not be used after the best before date.
This product is a food supplement and should not be used as a substitute for a varied diet. A balanced diet and a healthy lifestyle are important for maintaining good health.