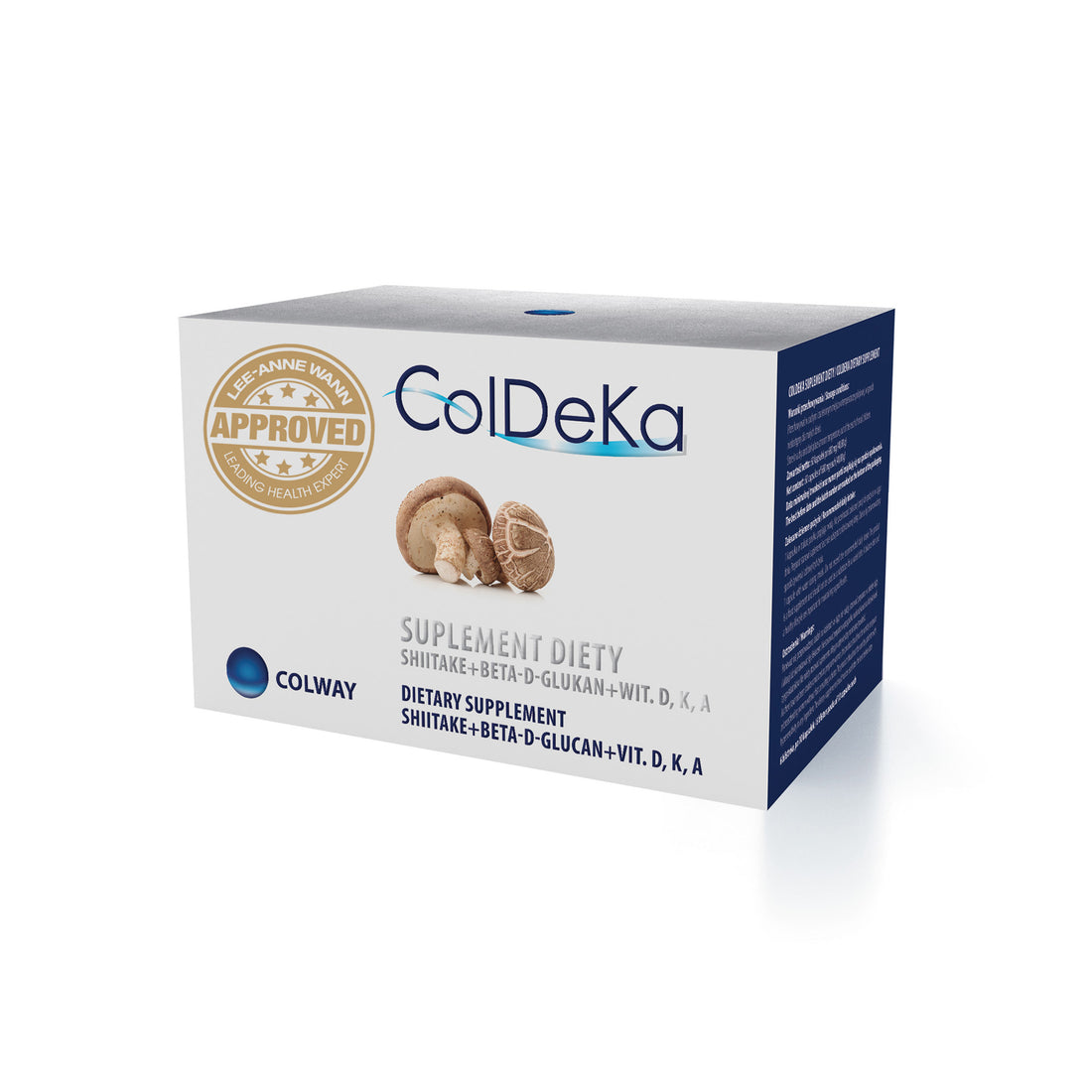 ColDeka - Powerful Vitamin D Immune Booster & Stress Management
60 Capsules
Coldeka is designed to activate and powerfully boost our immune system using highly absorbable, powerful natural ingredients including Vitamin D, Vitamin K, beta glucans and shiitake mushroom all produced using the latest technology in both medicine and supplements which guarantees purity and quality.
Coldeka is the top supplement I use to help my clients counteract poor nutrition choices – we cannot always make great food choices, but we can lessen the negative impact of them. It is also incredibly powerful, effective and 100% organic and natural. In a time were looking after our immune system and giving it extra support is so critical it's my choice to keep the whole family healthy.
Top reasons to consider Coldeka:
1. Combat high levels of physical stress
2. Combat high levels of emotional stress
3. Powerfully boost immune function
4. Counteract the impact of poor nutrition
5. Can reduce the risk of cardiovascular disease
6. Help counteract overtraining in athletes
7. Can reduce negative impact of UV & electromagnetic radiation on health

INGREDIENTS:
Ingredients and quantity in a daily dose:
• Yeast (Saccharomyces Cerevisia) extract – 5 mg (25% beta glucan)
• Shitake mushroom extract – 1,5 mg (Lentinula edodes, 20%polysaccharides)
• Copper complex chlorophyllins – 0,1062 mg
• Cod oil – 500 mg (8%EPA, 9%DHA, 20%PUFA, 1000 IU/g of vitamin A, 100 lU/g of vitamin D3)
• Vitamin D2 – 13,75μg (ergocalciferol)
• Vitamin K1 – 63,75μg (phylloquinone)
• Vitamin K2 – 11,25μg (menaquinone-7, MK-7)

RECOMMENDED DAILY INTAKE:
• 1 capsule per day with meal.

CONTRAINDICATIONS:
As there have not been studies conducted on pregnant women, it is recommended this product should not be used by pregnant or breastfeeding women without first consulting a doctor.
Patients with hypersensitivity should not use the product.
The dietary supplement should not be used after the best before date.
Please do not use if you have an allergy to any of the ingredients.

OTHER:
Benefits by ingredients;

VITAMIN D
• Contributes to the normal functioning of the immune system and the absorption and usage of calcium and phosphorus.
• It aids in the proper functioning of muscles, maintaining healthy bones and teeth and maintaining the proper level of calcium in the blood.
• It also participates in the process of cell division.

VITAMIN K
• Contributes to normal blood clotting and helps to maintain healthy bones.

YEAST BETA GLUCANS
Beta glucans are used to boost the immune system and may
• balance cholesterol levels
• improve liver and brain function
• activate white blood cells, which in turn can recognize and kill tumour cells
• improve recovery from respiratory infections (incl. asthma)
• improve recovery from allergic rhinitis
• stimulate physical endurance in children with respiratory problems
• enhance macrophage function in trauma patients.

SHIITAKE MUSHROOMS
• Immune system support
• Cardiovascular benefits
• Anti-cancer benefits
• Protection from a variety of health concerns involving oxidative stress.

WHAT MAKES THIS PRODUCT SO SPECIAL?
Coldeka has been produced using the latest technology in both medicine and supplements which guarantees purity and quality. This technology is referred to as Supercritical Fluid Extraction SFE which is the process of extracting ingredients from natural sources. This results in a higher bioavailability and better absorption contributing to optimal health and well-being.