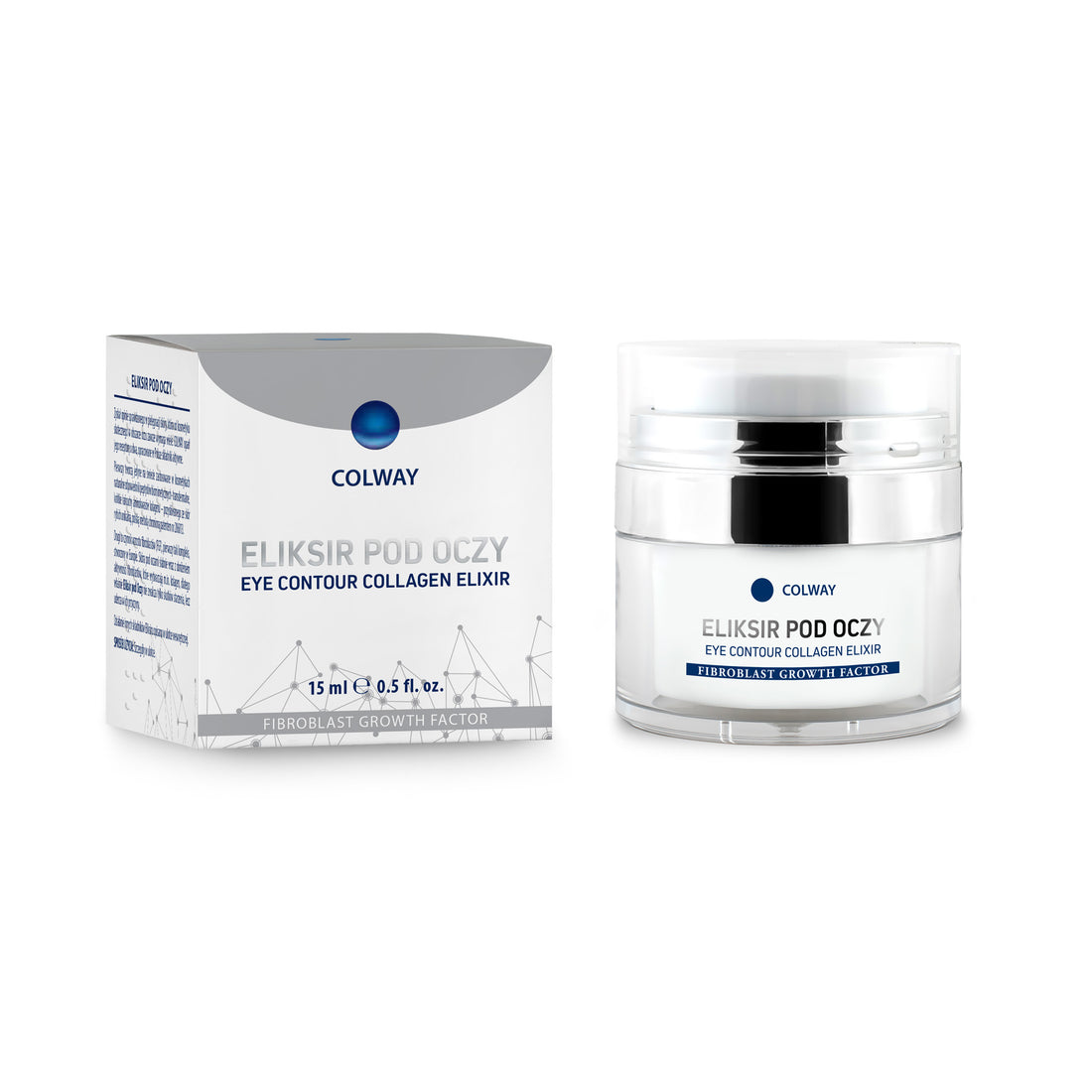 Eye Contour Collagen Elixir - Collagen remodelling, moisturising, smooth & glowing
15ml
Do you want to restore your youthful eye contour?
Caring for the delicate and sensitive eye area requires special attention.
Stress is especially visible near your eyes.
Eye Contour Elixir under the eye provides you with a gentle glowing eye contour.
Our cosmetic ingredients were selected not only to protect the eyes against new wrinkles but also to smooth the already existing ones.
Preserving moisture in the skin structure allows you to keep your youth for longer. Put on your best smile, because soon the daily care with Elixir under the eyes results in fresh and more beautiful eyes.
The Elixir's rejuvenating formula combines plant extracts with the latest in biotechnology. FGF-1a- Fibroblast Growth Factor (exclusive to Colway) – which is a unique complex of 155 amino acids that permeate across the cornified layer of the epidermis, stimulating fibroblast division and processes of fibroblast Neocolagenogenesis (collagen remodelling)
The microalgae extract tones the skin, while the bioactive tripeptide reduces shadows and puffiness under the eyes. Aloe stands for a portion of nourishment and regeneration for the skin. Vitamin E provides antioxidant protection. Our elixir is a must-have skincare product that will leave the skin around your eyes moisturised, smooth and glowing.
One of my favourites as this product contains collagen and algae that strengthens the cell, tones the skin around the eyes and protects it against sagging – say no more I am sold on this one.
WHAT DOES IT CONTAIN?

• Collagen - Extracted from fish skin, using a method patented in Poland.
• FGF-1a - Induces the biosynthesis of intercellular matrix proteins – collagen, elastin, laminin and hyaluronic acid. It also stimulates fibroblast proliferation and migration.
• Annochloropsis oculata algae - Strengthens the cell, tones the skin around the eyes and protects it against sagging. The Elixir reduces the symptoms of oxidative stress, smooth out wrinkles and make the skin more supple.
• Eyeseryl - A bio-active tripeptide, effectively reduces shadows and puffiness under the eyes; it improves skin microcirculation, helps to make the wrinkles shallower while lightening up and brightening the skin around the eyes.
• Vitamin E - A powerful antioxidant slowing the skins ageing processes, rebuilds the lipid layers of the epidermis and increases its protection against harmful external factors.
• Borage oil - Naturally exfoliates and moisturises the skin; it has a softening and soothing effect. It has a positive effect on blood circulation in the skin and removes toxins, which is why the skin is left better oxygenated and nourished.

INGREDIENTS:

• Algae
• Antioxidants
• Collagen
• Proteins
• Vitamins