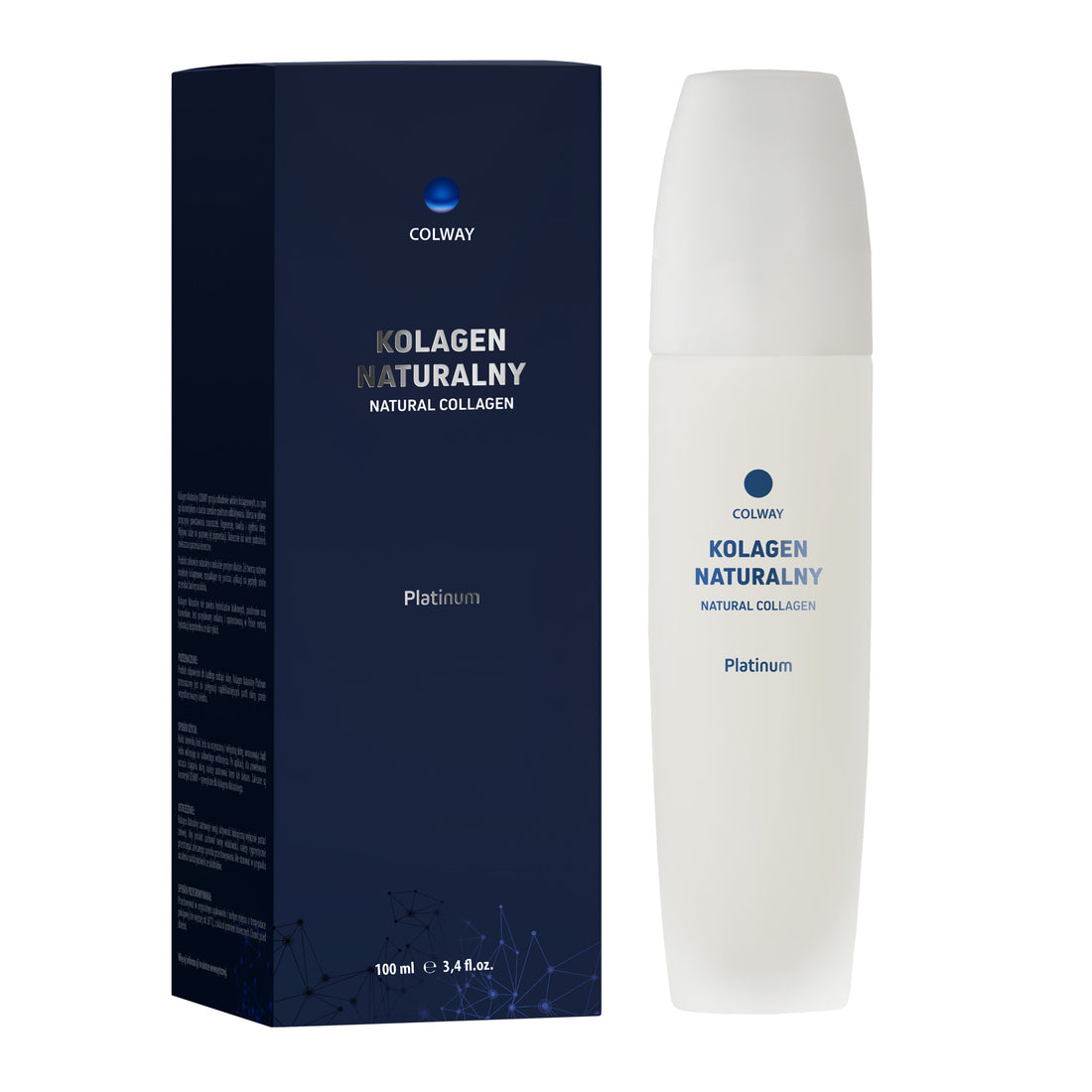 Platinum Collagen Gel - Revitalizing, Anti-aging, Anti-wrinkle
100ml
Platinum Collagen Gel not only fights the effects of ageing, it also treats the cause and reduces the degeneration of collagen fibres of the skin. WHY THIS COLLAGEN? It is the purest form of biologically active collagen available on the market. It contains raw collagen gel identical to human collagen making it the most effective and powerful anti-aging collagen.
Due to its strong revitalizing and regenerating properties, it is commonly recommended for beauty clinics, appearance medicine & plastic surgery clinics.
Natural Fish Collagen is the leader in Collagen products and is entirely different to other forms of collagen. It is extracted from fish skin in the form of triple helix (spiral) molecules which are precursors of the collagen fibres. So, in simple words, it would have become collagen fibre, but it was captured and extracted from the fish skin at an earlier stage of development and preserved (not processed!) as hydrate. Its molecules maintain their triple helix structure and their biological activity in beauty products. Our product differs in that it maintains the model structure of collagen and even the inter-spiral and intra-spiral bonds.
Thousands of "collagens" on the market are usually hydrolysates composed of amino acids, which can be referred to as, "post-collagen" proteins. They are technically not collagen any longer; they merely contain amino acids typical to collagen tissues.
The unique Polish method of triple helix collagen extraction and preservation is not used in any other part of the world.
As we age, we lose the ability to produce new collagen, as much as 1.5% with every year once we pass age 27. In fact, sagging skin during menopause is caused by rapid collagen loss during this period - as much as 30% during first 5 years and 2% for the next 20 years.
As collagen degrades, skin loses firmness, and jowls and fine lines start to appear. You may notice that dynamic smile and frown lines become permanent, your nose tip drops, the eye area hollows and pores become larger.
Collagen called the protein of youth, constitutes more than 30% of human protein mass and as much as 70% of skin proteins.
Collagen and elastin in the dermis form a flexible mesh, which gives the dermis its elasticity and firmness, it binds water, lipophilic substances and is also responsible for the condition of connective tissues; that is in fact the condition of the whole body.
If I am going to use a collagen product to combat aging and reduce wrinkles and fine lines then I want the best. As the only active collagen of its type in the world this product is truly amazing. I use this daily and often use on any damaged skin to help heal and repair quickly.
Platinum Natural Collagen is recommended for face, neckline care and delicate parts of the body.

• Supports revitalizing treatment for the mature complexion
• Provides non-invasive face lifting and regenerates skin after plastic surgery procedures, dermabrasion, etc.
• Regular use stops skin-ageing processes
• Supports the treatment of thermal burns, sunburns, chemical burns and wounds.
• Softens and smooths scars

INGREDIENTS:

• Aqua
• Collagen
• Elastin
• Lactic Acid
• Caprylyl Glycol*

*Caprylyl glycol is an alcohol derived from caprylic acid, which is found naturally in coconut oils. Used as an emollient with a moisturizing and delicately greasing effect, which supports the absorption of collagen into the skin and increasing its ability to bind water.

RECOMMENDED USE:

Morning and night apply 1-2 pumps on clean damp skin
For best results combine with Atelo Cellular Water. Rub gently and leave until fully absorbed, then apply your favourite moisturiser. It is recommended to exfoliate skin 2 times per week for best results just before applying Platinum Collagen Gel. Also, you can combine collagen gel with derma roller, microdermabrasion, needling or laser treatments to enhance results.

RECOMMENDED APPLICATIONS:

Platinum Collagen Gel – on the face and neckline

• Slows the skin ageing process and smooths minor wrinkles – Covers epidermis with a water retaining film and improves skin elasticity and softness.
• Raises sagging skin jaw and improves facial contours.
• Controls sebum, ideal as a moisturiser for oily skin.
• Reduces post-treatment effects of laser, dermabrasion, aggressive chemical peels and every surgery such as irritation, redness and scars.
• Very effective for sunburns, burns, frostbites.
• Smooths blackheads.
• Effective support for juvenile acne and rosacea treatment.
• Supports skin allergy treatments.
• Aids in psoriasis and eczema treatments.
• Softens the edges of old scars and smooths new ones.
• Firms breasts.
• Improves condition of dilated capillary vessels and spider veins.
• For all skin types, genders and age.
• Support for the treatment of early detected melanoma (by lowering ph of the skin)
• Helps recover skin immune system.
• Antiseptic properties