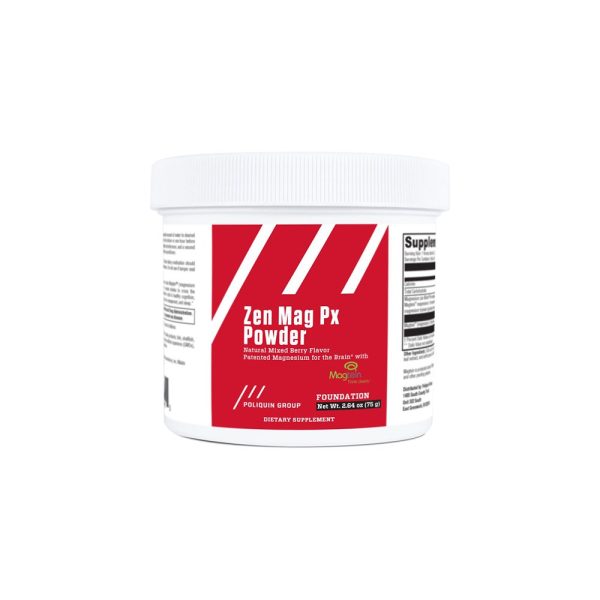 Zen Mag Powder - Stress, Sleep & Brain Function
75 grams / 30 serves
Zen Mag Px Powder Mixed Berry Flavor is a high-quality magnesium supplement that targets the brain to improve sleep and brain function. Featuring the unique mineral Magtein (magnesium L-threonate), Zen Mag PX Powder nourishes brain synapses to help you think clearly, relax, and recover from stress.
Zen Mag PX Powder is such a great product and my go-to magnesium for overcoming insomnia and poor sleep. Sleep is so critical to optimal health and weight loss, it MUST be addressed if you want to achieve these things.

It can also help overcome stress-related issues, depression, headaches, and lack of focus so a massive win in my book.

It is designed to balance the central nervous system and improve ability to recover from intense physical and mental efforts so a great support supplement for those of us under physical and mental stress.
Top Reasons to focus on magnesium repletion
1. Improves Sleep: By balancing stress hormones, magnesium can improve sleep in people with insomnia and anxiety.
2. Eases Muscle Pain & Cramps: By calming the central nervous system and raising magnesium levels in muscle fibres, magnesium can counter pain and cramping.
3. Promotes Muscle Repair: Magnesium improves lactate clearance and antioxidant status for faster muscle recovery.
4. Improves Relaxation and Eases Stress: Known as the "anti-stress mineral," magnesium helps metabolize cortisol and lower stress.
5. Supports Mood: Magnesium affects neurotransmitters and raises mental outlook.
6. Enhances Bone Health: Magnesium improves activity of vitamin D and calcium, supporting bone strength.
7. Improves Exercise Performance: Magnesium plays a role in powering exercise, ensuring your muscles have the energy for maximal efforts.
8. Supports Cardiovascular Health: Magnesium relaxes blood vessels and helps prevent cardiovascular inflammation.
9. Improves Immunity: Magnesium affects the immune response via its role in regulating inflammation and the function of immune cells.
10. Reduces Asthma: Magnesium relaxes the bronchial airway, improving lung function.
11. Reduces Premenstrual Symptoms: Magnesium protects against PMS, reducing ratings of depression, water retention, and anxiety.

ADDITIONAL INFORMATION
INGREDIENTS
Magnesium (as Albion® Di-magnesium Malate, Magtein™ Magnesium L-Threonate, and TRAACS® Magnesium Lysinate Glycinate Chelate) 200 mg

Other Ingredients: Deionized Water, Caprylic/Capric Triglyceride, Magnesium Sulfate, Polyacrylate 13, Polyisobutene, Polysorbate 20, Acrylamide/Sodium Acryloyldimethyl Taurate Copolymer, Isohexadecane, Polysorbate 80, Lecithin, Alcohol, Glycerin, Sodium Hydroxymethylglycinate, Potassium Sorbate, Citric Acid.
Magtein™ (Magnesium L-Threonate) 1 g

Other Ingredients: Citric acid, malic acid, natural flavors (no MSG), stevia leaf extract, and anthocyanin extract (color).

RECOMMENDED DAILY INTAKE
1 x serve with water per day for 7 days
2 x serves with water per day there after based on goals and symptoms.
Contact LeeAnne directly for more details and assistance with dosing.

CONTRAINDICATIONS
Who Should Not Take It?
• Individuals with kidney disease should speak with a doctor before supplementing with magnesium.
• If pregnant or lactating, speak with a doctor before supplementing magnesium.
• Individuals taking bisphosphonate (bone density) medications should speak with a doctor before supplementing magnesium.
• Speak with a doctor before taking magnesium if using potassium-sparing diuretics.
• Speak with a doctor before supplementing magnesium if you are taking antibiotics. Magnesium can interfere with the absorption of tetracycline antibiotics. It is advised to supplement with magnesium at a time of day other than when taking tetracyclines.

This magnesium has made such a difference to my life - my sleep has improved and I can think so much more clearly. Thanks LeeAnne for recommending.
Dan